Watch the Video Tutorial
This is the unsightly fireplace that I want to paint!
It's floor-to-ceiling brick. And while that's pretty cool in chic apartments in Soho, it's not cool in suburbia Silver Spring, Maryland in my home!
It needs to go. Now.
 If you've been a follower of this blog for any length of time, you'd know that this 1970's-ish house that we bought mid-2010 has been a LOT of work–
removing tons of wallpaper
……..prepping walls for painting……..
this
…….
that
……the other….Yeah, you know how it is buying an older home: lots of work updating it. So, not only am I updating outdated
furniture
(see my Projects Gallery of furniture makeovers)
, but I'm also updating outdated walls, too!
And we don't get a lot of light in our family room because of a big tree right outside of our window that resembles a piece of broccoli (i.e. DENSE!).
It blocks out much of the light in the spring and summer when the leaves come in and makes me feel like I'm living in a dungeon. Who wants to feel like
that
?? 🙁 (
UPDATE: See how I paid $1,250 to have that tree removed from my backyard and how dramatic of a difference it made it brightening up my home!
)
Hubby won't allow us to chop down the tree (even though I asked as my Mother's Day gift, hahaha), so I decided that painting the fireplace is the better option.
I really want something that will lighten up the fireplace, and, hence, the room will be brighter, and, 2) maintain the real "look" of the brick.
So I just kicked out $200 for a product called
Brick Anew
. After doing some reviews, I think it's what we're looking for, and I can't wait to try it! I made the impulsive decision at 2 a.m. in the morning to order the kit and hoping I just made the right decision!!!
Apparently it's a special painting kit that contains several cans and layers of paint that allow you to maintain the natural brick texture, but lightens it up. And they have 3 different colors. It also has an instructional DVD to come with it.
Anyhow, here are a couple pics of what I hope this product will do for us, via their website!
A
nd most DRAMATIC is this one, since it most closely reflects the kind of fireplace floor-to-ceiling that we have.
 I have no idea if this will work, and Lord knows I didn't have money to kick out for it, but I can't go through another spring/summer like last year, fretting over the darkness of our living spaces and needing to turn the lights on even when it's perfectly sunny outside! Not acceptable!
I'm excited to try it! Thankfully there is a money back guarantee on it….
WISH ME LUCK!!!!!
UPDATE (December 2015)
The fireplace is still holding up well! It's been 3 years since I painted it, and it still looks as good as the day I painted it!
I recently made over my family room, and this is how the painted fireplace looks in my family room!
BEFORE
AFTER!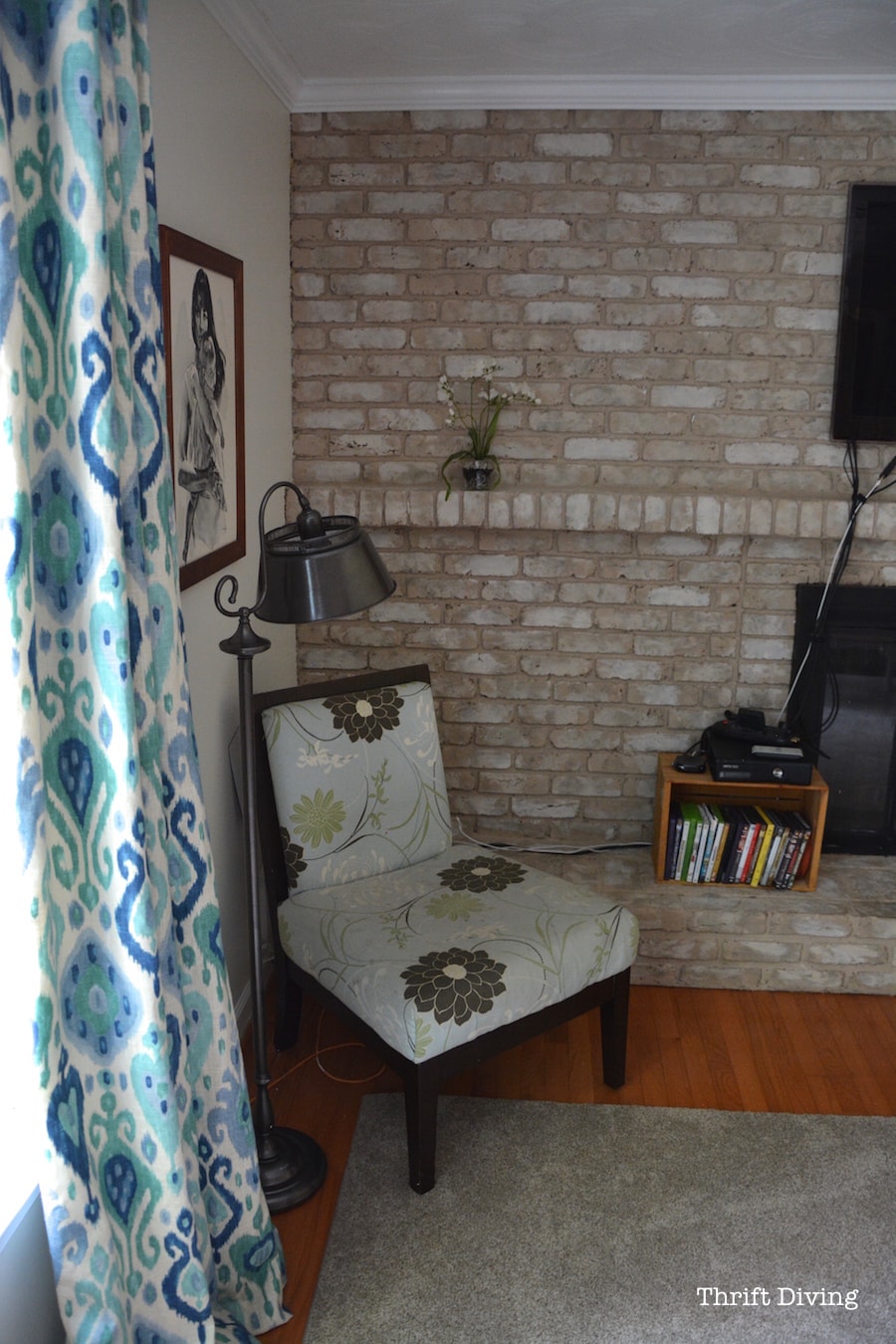 To see the results and video, go see how I painted my old brick fireplace.
Click here for a tutorial on how I sewed the cure, lined DIY curtains.
You can also buy a Brick-Anew painting kit, and tell them Thrift Diving sent you! 🙂