There's not much I remember about being in school. But when I think back to what I do remember and loved most about school, it was the moments that allowed me to run, play, and be creative.
I remember tossing up that ginormous parachute in gym class in elementary school, making a huge mushroom with it, everyone scrambling to run underneath and sitting on the edge to keep the air trapped inside (remember that?!?).
Oh–and getting my first taste of sewing in Home Ec in 6th grade, making a blue floral potholder from scratch!
Ahhhh….man, these were the best memories of school.
What's sad, though, is that when funding is tight, what's the first thing that gets cut?
Yep–art, music, field trips–anything that's considered "non-essential" to learning.
But I recently learned about an online store called Schoola that is working to keep those kinds of programs alive and kicking in schools (and to help girls all over the world get a good education).
And they asked for me to spread the word about them.
What Is Schoola?
Schoola was started a few years ago by a former teacher and school principal to help save art, music, fieldtrips, and Physical Education in schools. It's a site where you donate your gently worn quality clothing and accessories, and Schoola will resell them and send 40% of the sale of your items to the school of your choice.
What's really cool is that once you set up a free account you can request for them to send you a big free plastic donation bag. They pay all the shipping costs. Just write the name of the school on the bag that you want the donations to benefits (pick your kids' school, your grandkids' school, for example).
You can then track your sales through your Schoola account!
The only thing you have to make sure of is that you're sending quality stuff. Don't send your gardening pants with dirt stains on the knees. HA! You won't get up a few pennies for that. Send the good name brands of things that you know people would want to buy.
And make sure it's not worn, stretched out, etc. Only send stuff that you wouldn't be embarrassed to give to your best friend. 😉
You can read more here about how Schoola works.
I think it's a brilliant idea!
Doing a Little Shopping
I also like that you're able to shop on the site, too, often times 50% – 90% off of retail prices.
Many items still have brand new price tags, or will be marked at "blemished" with details about any blemishes.
And while I found their prices more than what I pay at my favorite thrift store, I really like that I can see how the money is marked for schools.
It even tells you on the page which school that item will be benefiting if you buy it.
I love that!
I decided to dig a little deeper on this school and found out that 19 bags were sent in to be sold in honor of this school and 93% of it has been sold, for a total of $169 earned for that school. Impressive!
What Schoola Sent Me
Schoola actually sent me this complemenary dress from their inventory! They had asked my size, and honestly, I had no idea what they were even going to send…
But when I got it in the mail–GASP!–amazing!
The little slither of red at the bottom is to die for. Matches my lipstick. 😉
Very girly, too! I like that.
Getting Rid of a Few Things
So I'm ready to try this out!
I've been one of those lazy moms that don't participate in my kids' schools PTAs. I know…bad, bad.
I recently got rid of a bunch of stuff before the end of the year, so I didn't have tons to send.
But in my closet I did find this cute, red thrifted coat (too small), white Aldo purse (yard sale find!), leopard dress (thrifted, too!), and Guess summer dress (bought!) from years ago when I still had the slim body for it.
These things were in great condition and I knew they'd be perfect for Schoola to resell since they weren't dirty, torn, or full of holes.
I stuffed them in the bag they sent to me (click here to request your own bag–they'll pay all shipping costs), and sealed it.
I'll fill in my middle son's elementary school on the side so that the Schoola folks know where the 40% proceeds should go. All I've got to do is drop it off at the post office or ask the mail carrier to take it.
And I'll be able to keep tabs on when something sells because all the info will be in my Schoola dashboard.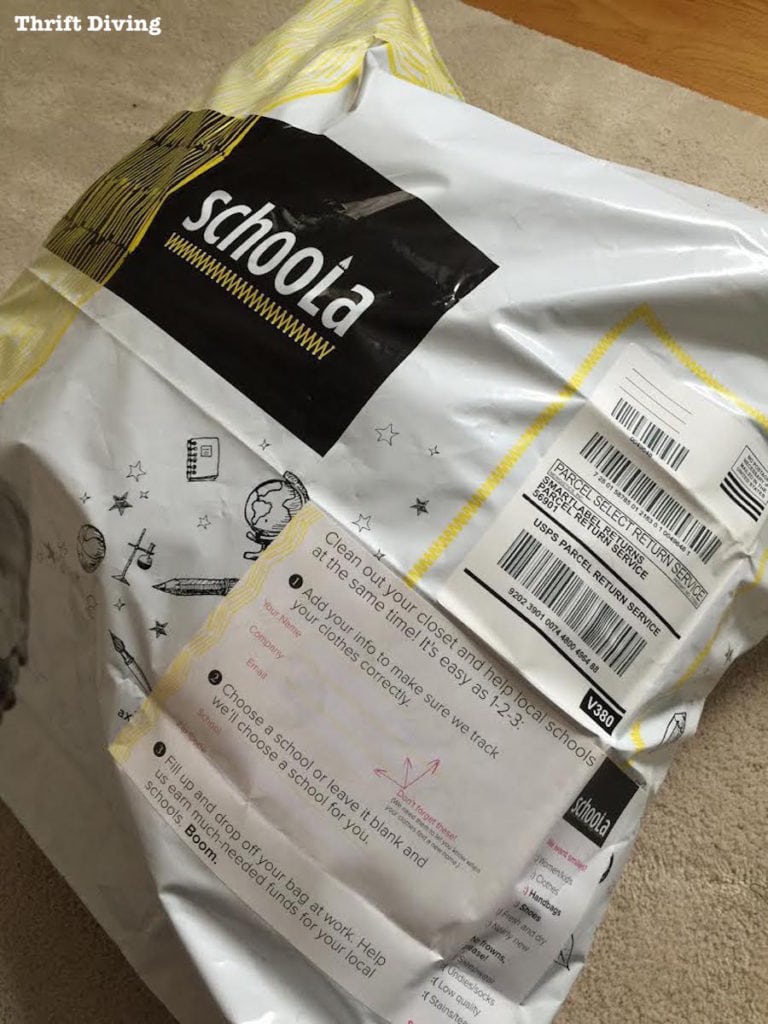 Caveats
Since Schoola isn't a non-profit organization, they don't give tax deduction receipts for your donations.
So that's something to keep in mind if deductions are important to you.
Why Schoola?
The benefit of helping local schools through Schoola is that you do none of the work; they'll handle everything: selling the clothes, collecting the money, and then cutting a check to the school several times during the year once earnings reach at least $20.
It's pretty hands off for the busy person that wants to make a difference. They're big supporters of the Malala Fund, too, an organization started by the world's youngest Nobel Peace Prize winner who was shot in the head in Pakistan because of her activism to support girls' education around the world.
If you like this idea of supporting schools and the arts, they've got an amazing Resource page on their site with other organizations that are doing similar stuff. I highly recommend you check it out!
Extra Goodies
They were nice enough to send some goodies with the dress, like this sweatshirt, and my 6-year-old couldn't wait to put it on. Silly kid… LOL
He looked a big giant size, right?? HA!
Your Turn
Take a moment to sign up for a free account at Schoola and request a free donation bag. Find the quality clothes and accessories in your closet that can do good for schools instead of just taking up wasted space in your closet. And if you still have questions about them, check out their FAQs here.
So what items do you have in your closet that can do good for your local schools?

This post is sponsored by Schoola. They sent me a complimentary item from their inventory. Thank you so much for supporting the sponsors that make Thrift Diving possible. All content and opinions are my own.