Cedar & Cotton Thrift Store: More Than Just a Thrift Store in Baltimore
Once upon a time, there was a young girl named Serena who wanted to start a blog about her house. Her old house. She barely had any DIY skillz, and she had no money to decorate.
Dude…she had, like, no readers.
Well, maybe a handful… Loyal readers they were, indeed, who had somehow found Serena online. So loyal that 3.5 years later, those same readers are still reading her blog and have become friends with her–only, friends she'd never met in real life.
Until today.
Meet Raina, owner of Cedar and Cotton thrift store in Baltimore.
Cedar and Cotton Thrift Store in Baltimore
It's hard to believe that I have known Raina for so long, and even live in the same state as her, but surprisingly, have never met her face-to-face! It felt like seeing an old friend, though! Not that awkward "Um-hey-how-are-um-you?" moment. Why hadn't she and I get together sooner?! She has such a great spirit!
She reached out and asked me to attend the grand opening of her and her partner, Nasira's, new thrift store, Cedar & Cotton (which is such an awesome name!), out of Baltimore, Maryland.
Of course, I'll attend! You've been supporting my blog all these years, now it's time for me to give back.
And can I just say that they have amazing pieces?!
I loved the mid century modern furniture vibe they had going on.
And seriously, if I had $600, I would have snatched up that sofa! How cool is it that the side table is attached?!
They had a nice spread of food sitting out, along with some of their more awesome pieces. I was worried the kids would get bored, but when it involves cupcakes and cool stuff like vintage globes, thankfully, they were entertained and didn't cause too much of a problem!
I loved the little side table for $60!
These are so cute, aren't they?! I think $20 was totally reasonable. Why didn't I buy them!
They make those cool hanging lamps, too.

I did end up getting this cute little clock for $15! The timer works, but I'm not sure if the clock works. I need to get some fresh batteries before trying it. It's soooo cute. My favorite color!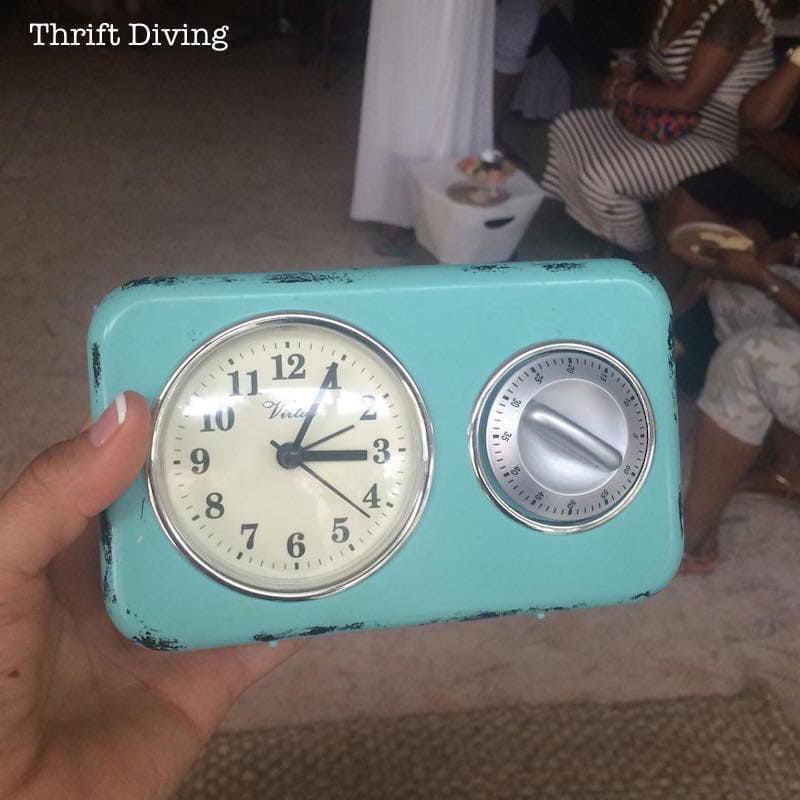 I'm really proud of Raina! Cedar & Cotton has been in the works since January '15, and they find all the best stuff at estate sales, thrift stores, etc., then refinishes them. Go, Raina!
Want More? Keep Reading:
And I'm so grateful for her, and for all of you, that read my blog so faithfully. You guys are the best!!
Okay, now go check out Raina and Nasira's shop and blog, Cedar & Cotton, and tell them Serena sent you! 🙂

Download the 5 freebies!
Thrift Diving inspires women to decorate, improve, and maintain their home themselves...using paint, power tools, and thrift stores! Use these 5 printables, checklists, and ebooks to get started!