In PART 1 of this series on how I built a DIY bathroom vanity, I showed you how I attached the upcycled legs, aprons, and plywood base.
In today's post, I'll show you how I built and attached the sides of the vanity and the struggles I ran into.
Where we left off was that the base had been built.
The next thing I needed to figure out was how in the world I would build the sides!

I mentioned in the last post that it's easier to attach sides to build a DIY bathroom vanity if you're using these tall kinds of legs because you have that long stem of leg to which the side can be attached.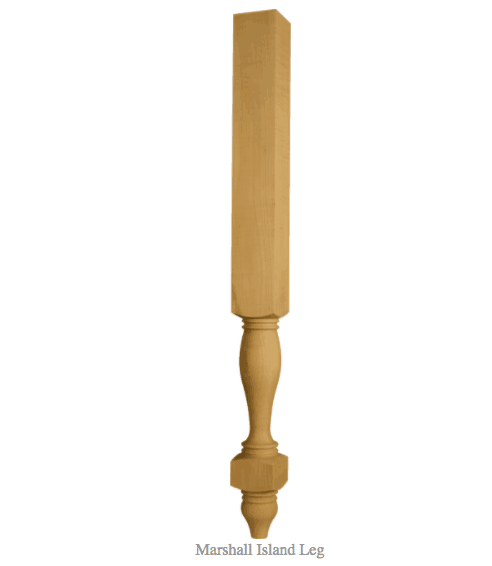 But when you've got short upcycled "stubbies" like me, you've got to build UP, on top of them.
And that what going to be a problem.
What I really wanted was a panel with raised edges.
Something like this, but with a thin panel of Red Oak in the middle.
But the problem was that The Home Depot doesn't sell 1/4″ thin sheets of Red Oak plywood.
If I were painting this cabinet, it wouldn't have been a big deal because I could have used just cheap 1/4″ plywood which would have simply been covered up with paint.
However, I planned to keep this wood as natural as possible so I couldn't mix woods. That wasn't going to work.
The thinnest Red Oak that The Home Depot carries are 1/2″ thick boards, and only about 6″ wide, so I ended up having to cut three pieces and glue them to the inside of the Red Oak frame, like so. (I worry that they'll warp over time, but I'll have to deal with that if the time comes).
Then I made sure they were square, using my speed square, and then glued.
As the glue was drying, I clamped it down.
TIP: When you're building things, always have a bunch of good quality clamps in various sizes!! I love these Dewalt clamps because they're easy to tighten and they have soft rubber on the ends, which won't damage your project.
The Real Challenge….
So you know how DIYers love using the Kreg Pocket Hole jig, right?
It's this cool little blue tool that allows us to create pocket holes to attach pieces of wood together pretty easily, with super strong joints.
Here's a pic of me using a Kreg Pocket Hole jig on another project:
Well, here's the thing:
You should NOT drill a pocket hole into the end grain of a board.
I had no idea. I actually just learned that tip while working on this project. (I recommend you watch this YouTube video to see exactly why it's not a good idea!)
The reason why is because if your screw is angling down like this, into the end grain, there's no strength in the screw staying put. It will just crack out. The strength of a pocket hole joint is when you're connecting wood to a piece of wood's face or its side, but NOT its end. Plus, you definitely don't want the screw pointing towards the outside edge, where it could just break off…..
Crap.
What was I going to do???
How was I going to secure this wonky side to the vanity??
I'm Going to Keep Moving Right Along….That's What!
At this point, I had no other options than to just add the screws, even though it wouldn't be a strong joint.
But I knew I would have to figure out a solution to reinforce the sides.
My worse fear was that the vanity would come crashing down once the heavy 150-pound granite top was placed on top.
So I decided to glue and nail a support board to the base of the side.
Even though I would be screwing it into the end of the legs, it had to be better than leaving the sides "as is."

(Guess I should have removed the stickers…. LOL).


After gluing the board to the base, I planned to add a large piece of metal to reinforce it even more.
But first, I drilled pilot holes.
Then I attached a large Simpson Strong Tie bracket to the front and back of the vanity.
And you want to see how crazy I am??
I kept stripping the screws and ended up totally stripping one that I couldn't get out. LOL
You see it sticking up there??
That's how I left it, too!
Lesson learned: drill better pilot holes and add a bit of wax or soap to your screws so that they go in easier and you don't strip them and end up like mine!
I also started planning how to add the rail and stiles (rail is the name for the wood that is running horizontally; stile is the name for a vertical piece of wood).
(In the future, I would use plywood for the back support for stability, which expands and shrinks less than Red Oak).
But because I hadn't planned out this vanity, I also ran into problems with how I was going to accurately attach the stiles, which I'll explain in the next post.
Problem With Plumbing??
Another potential problem that arose was whether or not I would have enough clearance for the plumbing.
According to my contractor friend, Edmundo, he said I should have 6″-8″ of clearance under the plumbing for future work that would need to be done.
According to me, however, I said it was just fine and there was no way I could change it now. LOL
Honestly, I feel like there is enough room. You can see in this picture below that the plumbing clears the base just fine.
But if you decide to ever create your own DIY bathroom vanity, just make sure you account for where your plumbing is and if you (or a plumber) will have enough space to access the pipes and stuff.
But What If It Falls Apart??
I joke that this whole project has been a piecemealing of wood parts, and it's true!
I still worry that this will fall apart down the road, as the wood starts to shift and move due to seasonal and humidity changes.
Yesterday I said to hubby, worriedly, "But what if it falls apart??"
He replied, "Well, then you build it again."
When he said that–lightbulb moment!
It wouldn't be the end of the world if this project eventually fails. Yes, it would suck. And yes, it would be expensive (I haven't totaled up, yet, how much I've spent on wood and supplies).
But, the next one that I build would be even better than this one!
That's just how life is when you're learning new skills.
You suck…..then suck less…..and then even less than that….until you get better…
Cross your fingers for me!
Read the Rest of this Bathroom Makeover Series!

Catch up on this entire master bathroom makeover series!

DAY 1: The Evolution of a Master Bathroom Makeover

DAY 4: Picking Out New Flooring: Which One Do You Like?

DAY 6: How to Remove an Old Bathroom Vanity

DAY 27: Removing Wallpaper, Repairing Walls, and Removing an Old Toilet

DAY 29: Installing New Flooring in Our Master Bathroom

DAY 49: The Bathroom Makeover That Would Never End (An Update!)

Day 52: How to Remove a Toilet Yourself

DAY 57: How to Install a Toilet Yourself


Build a DIY Bathroom Vanity – PART 1 – Attaching Legs and Base

Build a DIY Bathroom Vanity – PART 1 – Attaching Legs and Base